CRS Scientist Spotlight on Khadija Snowber
Khadija Snowber is a second year MS-RSM student in Dr. Emily Miller's lab. Her thesis research focuses on treatment of perinatal depression.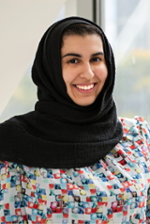 Thesis mentor: Emily S. Miller, MD, MPH 
Thesis title: Does the implementation of collaborative care mitigate racial disparities in the screening and treatment of perinatal depression? 
What brought you to join the CRS community and what is your current position? 
Currently, I am a second-year master's student in the Reproductive Science and Medicine program. I joined the CRS through the program and was drawn to the CRS community seeking opportunities to further my educational and professional development. 
Could you describe your research? 
Pregnant and postpartum individuals undergo some of life's most incredible processes of bringing life into the world. My research is at the intersection of health equity, maternal mental health, and improving patient outcomes.  Specifically, my research is looking to investigate 1) whether differences exist in screening and treatment of perinatal depression between Black and White patients and 2) if the differences observed improved, had no change, or were exacerbated after implementation of COMPASS, a perinatal depression collaborative care program.  
What aspect(s) of CRS do you find most valuable?  
The people! It is an incredible honor and privilege to learn from experts at the forefront of research in our field. The CRS houses some of brightest, hardworking, and exceptionally talented individuals from leadership, staff, faculty, and trainees. The space is truly one that pushes individuals to do good science and foster unique interdisciplinary collaborations.  
What has been the most valuable aspect to your training as a reproductive scientist? 
The most valuable aspect to my training as a reproductive scientist is being able to take advantage the variety of professional development resources here at Northwestern. Learning to effectively communicate my science to a variety of audiences in a variety of platforms are skills that I will take with me throughout my career. 
What is one piece of advice you would give to young scientists starting in their journey in science?  
 As a reminder to myself first, take a deep breath and ask! Science is one of those few spaces that every question, no matter how simple or complex, is all part of learning and is appreciated. 
What do you think will be the next big contribution in the reproductive biology field?  
The next big contribution to the field from a public health perspective would be understanding, designing, and implementing health systems-based approaches to improve maternal and infant clinical care and reduce the maternal and infant mortality disparities.  From the bench perspective, it would be understanding the mechanisms of perinatal depression and making this research intentionally as diverse and inclusive from the researchers investigating to the study participants.   
What hobbies do you have outside of the lab?   
For fun, I like to spend time with my family, going on nature walks, and exploring the world through food!