Master of Science in Reproductive Science and Medicine (MS-RSM) students publish two peer-reviewed manuscripts
Master of Science in Reproductive Science and Medicine (MS-RSM) students publish two peer-reviewed manuscripts
By: Francesca E. Duncan, PhD, Executive Director, CRS, March 30, 2017
It is with great enthusiasm that we congratulate the inaugural MS-RSM students on their manuscripts that were recently published in the journal Molecular Reproduction and Development. These manuscripts fall under the submission type known as "VISIONS: The Art of Science."  This format highlights the visual impact inherent in the field of reproduction and development through a single image that conveys important concepts.
Azza Akasha, Atsuko Kato, Yi Luan, and Tracy Zhou authored: "Immunohistochemistry in the ovary: Moving beyond the brown and blue" where they demonstrate the versatility of colorimetric immunohistochemical techniques.
Allison Grover, Dana Kimelman, and Megan Runge authored: "Beauty in the breakdown: the morphology of first polar body in mature mouse eggs" where they used immunocytochemistry and confocal microscopy to explore the architecture of the mammalian egg.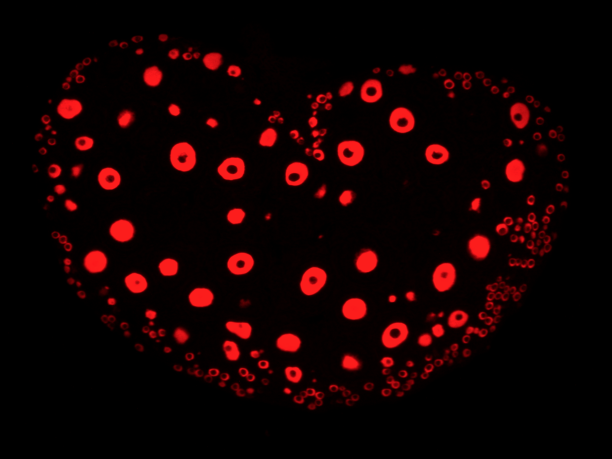 The data for these submissions were generated last fall during the Reproductive Technologies Laboratory (REPR_SCI 440) – an intense hands-on laboratory course that exposes students to state-of-the art techniques.  The Center for Reproductive (CRS) Science Executive Director, Dr. Francesca Duncan, directs this course.  "Science is more than simply doing experiments – it's also about learning how to communicate our work and findings effectively.  These manuscripts are perfect examples of how a picture is worth a thousand words," she says.
Teresa K. Woodruff, Director of the CRS and the MS-RSM program, reiterates the value of these submissions: "In one semester, our students have learned to produce well-designed and controlled publication quality data and to experience the manuscript preparation, submission, and peer review process firsthand.  This early exposure provides a unique and strong foundation for their future scientific endeavors."
The MS-RSM authors also received praise from Dr. Gary Wessel – the journal's Editor in Chief, saying "I congratulate the authors on the publication of their excellent work. As Editor in Chief of the journal Molecular Reproduction and Development, we strive to be blind to all except the quality and impact of the scientific contribution. To learn that these beautiful contributions were from students in a Masters degree training process reinforces the concept that everyone, regardless of degrees, backgrounds, and years of experience, can make an important contribution to the field. I think Einstein was right here as well, that success in science is 10% inspiration and 90% perspiration. Keep up the hard work because I look forward to seeing the next, and the next, and the next contributions these scientists make! "
The complete submissions can be found here:
http://onlinelibrary.wiley.com/doi/10.1002/mrd.22773/full