Kelly McKinnon, PhD Candidate, selected to attend the Science Outside the Lab Policy Workshop, Washington, DC
Kelly McKinnon, PhD Candidate, selected to attend the Science Outside the Lab Policy Workshop, Washington, DC
By: Chelsea Castleberry, Program Assistant, CRS, April 3, 2017
Please join the Center for Reproductive Science in congratulating trainee Kelly McKinnon, PhD Candidate in the Woodruff Lab, who has been selected to attend the
Science Outside the Lab
Policy Workshop (SOtL) in Washington, DC. The workshop will run from June 12 – June 23, 2017. The Graduate School at Northwestern will be sponsoring her trip.
Presented by Arizona State University's
Center for Engagement & Training in Science & Society
(CENTSS),
Science Outside the Lab
explores the relationships among science, policy, and societal outcomes in Washington, DC, where $140 Billion of federal science money and countless policy decisions originate. "Meeting with decision makers in our nation's capital, all with different viewpoints, will teach me how to make my voice heard to different audiences and allow me to grow as a communicator. I plan to learn as much as I can about how policy, regulations, and science funding are determined, and disseminate this information to other scientists, so that we can all get more involved and affect change. A misinformed public catalyzes misinformed policy, and that's something we can all work together to improve," says Kelly.
During the two-week workshop, students will interact with the people who regulate, fund, critique, shape, and publicize science, including congressional staffers, funding agency officers, regulators, lobbyists, journalists, and academics. Kelly is driven by a passion for women's health research, along with a vision for increasing scientific literacy, improving upon science communication, and engaging more women in science.
As Kelly states, "Over the past few years, my vision has become more focused. I hope to work at both a local and national level to improve healthcare for women in a world where reproductive science is often disregarded, to the detriment of women nationwide. My goal is to combine my expertise in women's health and reproductive science, and my communications skills, to inform policy that affects women. In the past I've always said, "we need more women in policy," or "we need more scientists in policy," and now I know I am that woman. I am that scientist."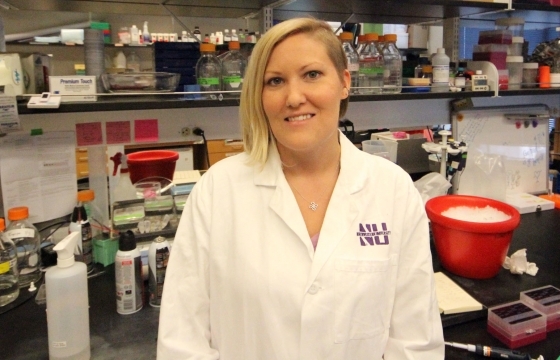 Watch for live
Tweets
from Kelly during her trip (@kellyemckinnon), as well as updates to her personal blog (
kellyemckinnon.com
).