Reproductive Science and Medicine Summit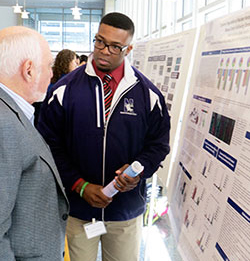 The Reproductive Science and Medicine Summit (formerly called CRS Mini-symposium) is an annual event showcasing reproductive science and medicine research conducted at Northwestern and surrounding Chicago area institutions including University of Illinois-Chicago and De Paul University. An organizing committee composed of CRS trainees is central to the success of this event. Trainee research and travel awards for this event have been funded through the Constance Campbell Memorial Fund since 1989.
The summit includes presentations from internal and external distinguished speakers, as well as trainee oral and poster presentations.
This year's CRS Reproductive Science and Medicine Summit will be held virtually on May 7th, 2021 from 9:00am-5:30pm CDT. Registration is now open! See the full agenda, submit abstracts, and find more information on the 2021 CRS Summit Website.