Reproductive Science and Medicine Summit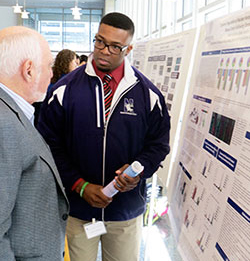 The Reproductive Science and Medicine Summit (formerly called CRS Mini-symposium) is an annual event showcasing reproductive science and medicine research conducted at Northwestern and surrounding Chicago area institutions including University of Illinois-Chicago and De Paul University. An organizing committee composed of CRS trainees is central to the success of this event. Trainee research and travel awards for this event have been funded through the Constance Campbell Memorial Fund since 1989.
The summit includes presentations from internal and external distinguished speakers, as well as trainee oral and poster presentations.
The 2018 Reproductive Science and Medicine Summit will take place on Friday, June 1st in Prentice Women's Hospital, downtown Chicago.
This year's Planning Committee will be led by Co-Chairs Shimeng Liu and Christia Sison; two graduate students from the Bulun Lab.
We welcome distinguished speakers from across the nation:
Martin M. Matzuk, MD, PhD, Director of the Center for Drug Discovery, Stuart A. Wallace Chair and Professor, Robert L. Moody, Sr. Chair, Department of Pathology & Immunology, Baylor College of Medicine, and Director of Clinical Chemistry, Ben Taub Hospital
Paula Cohen, PhD, Professor of Genetics, Department of Biomedical Sciences, Director, Center for Reproductive Genomics, Cornell University College of Veterinary Medicine
Christopher Geyer, PhD, Associate Professor, Society for the Study of Reproduction New Investigator Award 2017, Department of Anatomy & Cell Biology, East Carolina University Brody School of Medicine
& distinguished speakers from Northwestern:
Evan Scott, PhD, Assistant Professor of Biomedical Engineering, Northwestern University McCormick School of Engineering
Shohreh Shahabi, MD, Chief of Gynecologic Oncology, Department of Obstetrics & Gynecology, John and Ruth Brewer Professor of Gynecology and Cancer Research, Professor of Obstetrics & Gynecology (Gynecologic Oncology) and Medical Social Sciences
Carole LaBonne, PhD, Professor, Department of Molecular Biosciences, Northwestern University Weinberg College of Arts & Sciences
The CRS 2018 Alumni Lecturer:
Ulrike Luderer, MD, PhD, Professor, Department of Developmental and Cell Biology, University of California, Irvine, Ayala School of Biological Sciences
The 2018 Summit will include a special panel lunch on, "Communicating Science to the Public."
Please use the below link to register and submit an abstract for the 2018 Summit:
2018 Summit Registration & Abstract Submission
Registration will remain open through Friday, May 25th. Abstracts are due by Friday, May 11th in order to be considered for an oral presentation. Late breaking abstracts will be accepted through May 25th for poster presentations only.
Three CRS trainee abstracts will be selected for oral presentations, and the remaining abstracts will be presented as posters. The three CRS trainees whose abstracts are selected for oral presentations will each receive $250. In addition, there will be three awards of $100 each for the best CRS trainee poster presentations. Note: Only CRS trainees are eligible for Constance Campbell research awards.
Please contact chelsea.castleberry@northwestern.edu with any questions you may have.
Back to top